Click on any thumbnail below to see a larger version of the picture
"Woman 1986" - A study in curves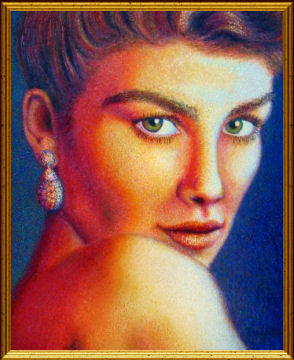 This painting began and ended as a total exploration of curves. I began with sketches of wavy lines, criss-crossing vertically on the canvas. I then eliminated some and moved others until a structure began to form. I then tried to apply the curves to a woman's form.
I employed several models to check lighting and shapes, but still ended up twisting body parts to fit the composition. Often (and in this case) I move (or stretch) the cheekbones and nose down and deemphasize them. This allows the eyes to be separately appreciated.
Above - the eyebrows, eyes and lips noticeably form an inverted triangle.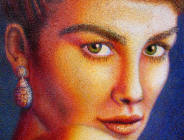 The heavy earring helps balance the left side of the painting.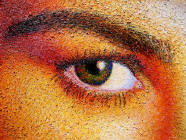 This close-up shows some of the layers of color applied with a palette knife. I turned the knife on its side and pushed the paint to create the brow and eyelash hair. The irises of the eyes are dabs from a smaller palette knife.