We flew into Venice and snapped a few photos
Click on any picture below to see a larger version
No city in the world is as dazzlingly different as Venice, a seaport built on more than 100 islands.
In this magnificent Renaissance realm of canals, bridges and merchants on the Adriatic,
gondoliers stand up to sing while they row. Even the buses are boats!
The city of Venice, Italy is simply stunning and completely unique.
Founded more than 1,500 years ago, Venice is linked by a series of over 150 canals,
400 bridges and many ancient pavements.
Above - St. Mark's Basilica, also known as "The Church Of Gold."
The cathedral takes its names because it houses a golden altar measuring 40 square feet
and set with thousands upon thousands of jewels.
Above - Left, St. Mark's Square or Piazza di San Marco with its pigeons.
Above - Right, we stopped to listen to a youth chorus with beautiful voices
The gondola is the primary mode of transportation throughout the canals,
not to mention the enduring symbol of tourism in Venice.
Though speedboats have become more commonplace nowadays,
they are unable to drown out the traditional songs of the gondoliers,
singing tales of true love or the magnificent history of Venice Italy itself.
Below - The Ponte di Rialto (Rialto Bridge) is the true heart of Venice.
The current structure was built in just three years, between 1588 and 1591
Below - The Grand Canal was traditionally the high-rent district in Venice;
houses were larger, and decoration was on a much grander scale.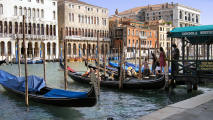 Below - Left, gondoliers on a bridge across a smaller canal
Below - Right, a gondola carrying lovers passes under the bridge
All buildings in Venice are supported on slender oak and pine piles (posts)
which are driven deep into the ground to create a solid foundation.
As the soil is waterlogged, with no free oxygen, the piles remain strong and do not decay.
The muggy summer air cooks the canals and scrapes the paint and enamel from the buildings.
despite its continual decay, the city is still one of the most beautiful destinations in the world.
Below - Dusk is upon us. We managed to get a few early evening shots.
Below - Left, A tenor (standing up on the gondola) singing "O sole Mio"
He was accompanied by a seated accordionist and was very good.
Below - You can't leave Venice without an obligatory purchase of a mask.
Below - It's the next morning and we have to say goodbye to Venice.