9.19.09 - We spent three rainy days in Toulouse. We enjoyed walking everywhere.
The Université de Toulouse is a world renowned university and one of the oldest
in Europe (founded in 1229) with more than 97,000 students, and we saw them all!
Click on any picture below to see a larger version
Above - Place du Président Thomas Wilson (Place Wilson)
Below - Sculptures in the park
Toulouse is known as the Ville Rose ("Pink City") for its distinctive brick architecture.
Below - The Capitole houses city hall as well as the Salle Gervais,
the Salle des Illustres, and the Salle Henri-Martin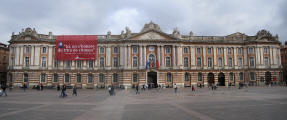 Below - The Main Stairway and the Salle Gervais
Above and Below - The Salle Henri-Martin with his impressionist paintings
of people along the Garonne (the river dividing Toulouse)
Below - The Salle des Illustres
Below - Judith and Fred play with the gargoyles
Below -
An Augustine monastery turned museum, a lovely example of southern Gothic architecture,
Musées des Augustins is listed as an historical monument. It dates from the 14th and
15th centuries, except for the small Classic cloister, which was completed in 1626
Musée des Augustins houses an outstanding collection of 12th-century Romanesque sculpture,
a superb collection of paintings, and other sculpture ranging from the
Middle Ages to the early 20th century.
Below - Romanesque sculpture
Below - Restoration of the Grand Hotel - Only the facade remains right now
Below - Cathédrale St-Étienne
Built over the course of five centuries, this church is a combination of various styles, including
medieval stained-glass windows, tapestries and paintings, and the large rose window of 1230.
Below - Toulouse's first large hospital was founded in the Middle Ages on the left bank
of the Garonne River. For centuries it was also used as a shelter for pilgrims on their way
to Saint-Jacques de Compostelle. There is a large shell sculpture in the gardens.
Below - La Basilique St-Sernin is Europe's largest Romanesque church, built of brick,
stone and tile from the 11th to the 13th century, containing the tomb of Saint-Saturnin
or Sernin, martyr and bishop, who brought Christianity to Toulouse.