Click on any thumbnail below to see a larger version of the picture
"The Menu" - Stanford University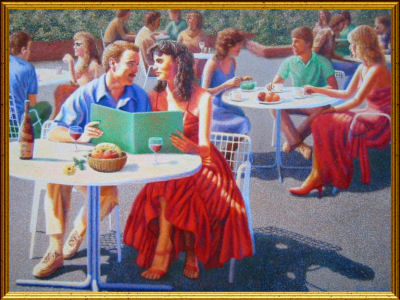 Originally titled "Lunch", this painting was inspired by numerous paintings done in the 19th century depicting lunch. One of the more famous was by Renoir titled "Lunch at Restaurant Fournaise".
Lunch for us was at Stanford University, California. The students were not quite dressed this elaborately. I just feel that if you're gong to bother to clothe people in a painting, the attire should at least be interesting if not bordering on pure costume.
The red dresses are just slightly over the top. The green menu and the green shirt (top right) taking the eye into the green hedge in the background help to balance the color composition.
This painting
This painting