Wednesday, June 9, 2004 - Cortona - Montepulciano loop
After another great breakfast we headed out toward Montepulciano. Montepulciano is known for its fine wines as well as its architecture that dates to the fourteenth Century. The original layout of the town survives in the steep medieval alleys and streets, many of which run beneath vaults and arches.
After passing through the Porta al Prato, the Palazzi Avignonesi appeared. The road continued past many amazing palaces before reaching the beautiful Piazza Grande.
After returning from Montepulciano we explored Cortona, the town in the book and movie "Under the Tuscan Sun." We just loved this place. The town itself is a maze of hills. The Fortezza Medicea is the highest point in Cortona and offers breathtaking views.
The streets of the city exude history and atmosphere. The Maffei is lined with sixteenth Century mansions while the Via Janelli has older fourteench Century stone houses. The Via Guelfa and the Via Ghibellina were the main streets of the old town and they are lined with medieval and Renaissance buildings, while the major public buildings are grouped around the Piazza della Republica.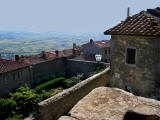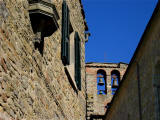 We enjoyed the exercise of climbing all of the streets and exploring all of the very different architecture. The views were absolutely awesome from everywhere.