Tuesday, June 8, 2004 - Montevarche to Cortona
We loaded up all of the vans and transferred from Milan to Montevarche to start our ride.
Our lunch stop was in Lucignano, another walled city
Approaching from Camucia, Cortona appears on the hill rising from a landscape of olive groves. In the front of the hill stands its finest piece of architecture, the Church of the Madonna del Calcinaio, a perfect example of Renaissance space and purity of design. The old walled town itself is 3 km further up the hill.
We ate dinner on a porch overlooking the valley.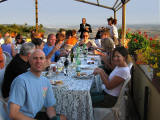 What an incredible view!