The Story of our Trip to the Dolomiti Region of Italy
Monday, 6.15.98 – Arrive in Milan, Italy
We arrived in Milan by train. We knew this would probably be the hardest bicycle trip we would do in our lifetime, but we were as prepared as we could be. Last week we biked in Tuscany and ended that trip in Florence. After a two-day rest (haha – we spent it walking from early morn til late evening) we boarded the Eurostar to Milano.
The train trip was interesting and relaxing. We were in no hurry to get to Milan as Greg (the trip leader) took our bikes from Florence to the hotel and they were sitting there assembled and waiting for us. We even spent a little "tourist" time in Milan before boarding the train to Gallarate (where we would spend the night).
Normally, we would do a pretty good "warmup" bike ride to wake up our bicycle muscles, but today we just did enough to be sure the bikes were without any new problems. We spent the rest of the afternoon talking to the other riders on the trip and relaxing by the pool.
The "Welcome Dinner" was held at Greg's favorite ristorante. The amount of food available and eaten was tremendous. "All you can eat" courses of salad, appetizers, pasta, meat, pizza, and dessert filled everyone to their limits. We were carbo-loaded and ready to go!
For reference, click on the profile below to see a larger version of our trip details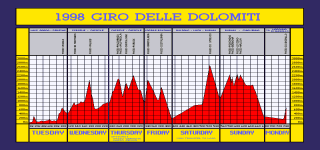 Tuesday, 6.16.98 – Lake Garda to Pergine
After a morning van transfer from Milan to Lake Garda, we were anxious to get back on the bikes. Today was a short day (only 70 miles and 3000 feet of climbing). The ride along the lake was very picturesque although we took almost no photos.
We decided that we wanted to have pictures that really showed the uniqueness of the Dolomiti area, and since we were starting out midday, we wanted to make good time in order to arrive early enough to see some of the town of Pergine. If the scenery looked like we might have been anywhere – another field, lake, farmhouse, etc. we rejected the photo opportunity. As beautiful as Lake Garda was, we were here for the mountains. Bring 'em on!
The day was not without a little excitement. We love some of the route instructions. "Watch twisty downhill" What do you mean? We're all experienced bike riders (if not racers). We're here to descend technical switchback descents…oh, wow, that was a STEEP twisty descent!
"Easy to miss" "Be alert! – happens in fast downhill off highway" Oops, we missed another one. Well, my nickname has always been "Bonus Miles." It's hard to pay absolute attention to the route maps when it's so much fun to fly down hills and just ride along and enjoy the scenery on the flats.
Great warmup day! We know what's coming so we'll gladly enjoy the easy half-day of cycling. After another wonderful Italian feast, it's off to bed and enjoy some sleep.
Wednesday, 6.17.98 – Pergine to Caprile
Just a little bit tougher today – 70 miles with 7000 feet of climbing. This would be an average ride for us at home, but tacked onto the rest of the days, it will certainly take its toll on our bodies. We lost the pack (a lot of riders prefer to hang out together and draft each other) very early in the ride today. We probably spend more time taking photos than some of the riders spend riding. I miss the interactive bicycling experience, but it's not the primary reason we're here.
We want to test ourselves on the ascents, but we also want to stop and smell the roses as well as take pictures. It does present a challenge, though. The route is designed to get us to the next pitstop at a reasonable hour, and if we dilly dally too much we'll miss dinner as well as seeing what's at the destination.
Even worse, we could be "sagged" into town by the "sweep" van! Fortunately, the van drivers know our skills, and we make a great effort to be "seen" on the route. They pass us regularly, and let us know if we need to up our pace a little. There are actually a couple of spouses (who are non riders) on this trip that ride in the vans and shop in the towns. One spouse even bikes a little on flat sections.
We ate lunch in Caprese today. This is where the U.S. Military plane wiped out a ski lift recently. It's very sad, and we don't want to yell out that we are Americans today. We decided this would be a good place to eat in order to allow some digestion before we start the big climb of the day – Passo Valles at 2033 meters or 6670 feet.
Okay, Passo Valles was a good workout. We have our bicycle legs now. A little snack in Cencenighe and we're ready for the uphill to Caprile. Caprile is a quaint ski town, quite busy in the winter but sleepy in the summer.
The hotel where we are staying opened for two days just for our bike group, and the chef cooked an exclusive meal for us. We are vegetarian and were delighted to have such a fantastic meal prepared for our enjoyment. We actually took a lot of pictures round Caprile area but unfortunately lost them – a story not worth recording here.
Thursday, 6.18.98 – Caprile to Caprile
Yes, that's correct – we did a loop ride today, beginning and ending in Caprile. It's referred to as the "Grande Strada" or "Great Road" loop. There are many possibilities for routes today. We ended up with a unique one.
The two routes that were mapped out for today offered a choice of three major passes or five. We chose the three pass route and ended up making pretty good time. When we arrived at Arabba (the junction where the routes came back together) we looked around the cafes for riders who rode the long route but didn't see anyone.
Curious, we rode out to look at the final pass to see if any riders were coming down, and were hooked. Once we saw the awesome switchbacks leading up to the Passo Pordoi, we knew we were going to ride to the top of another mountain. Hey, what's another couple thousand feet of climbing?
The ascent as well as the descent of Passo Pordoi was the most breathtaking ride of this trip so far. We absolutely loved it! But we couldn't believe we did it. With by far the toughest climb of the tour coming up tomorrow, what were we thinking? How could we think we could do four passes today and not pay for it?
Fortunately, another incredible chef-prepared carbo-loading meal fixed us right up. Yes, we are spoiled beyond belief. Excuse me while I check my bubblebath.
Friday, 6.19.98 – Caprile to Bolzano
The climb up to the Marmolada Glacier via Passo Fedaia began immediately. This ascent is very deceiving when you talk numbers. From the Caprile side, the climb is an average of 7.5%, which doesn't sound too bad. But the first half is a very gentle grade while the last half is mostly 11% and unrelenting.
We kept looking up and waiting for the switchbacks to get a little relief, but the switchbacks were just as steep! This was our first year for triples and our low gear was 32/25, but we were still out of the saddle a lot, and it wasn't to keep the pace high. This was the toughest climb we've done to date.
Fortunately we had 30k to recover and Passo Costalunga seemed fairly easy. Ahh…another 4 star hotel to enjoy tonight. Life is tough.
Saturday, 6.20.98 – Lasa to Bormio
A quick van transfer this morning to Lasa. This put us a little closer to our next climb. Today we climb Passo Di Stelvio! The Passo dello Stelvio is the highest pass in Italy. It is situated in the Alps Retiche, and is 2758 meters (9000+ feet) in height. Many consider it scenically the nicest of all the Alpine passes.
It is possible to climb the Stelvio from two different sides; from Bormio and from Prato, both in Italy. The toughest, and to us most spectacular climbing is the one from Prato, with 48 hairpins, it is regarded as one of the finest continuous hairpin sectors in the Alps. Starting from Prato, it is 24 km long, a distance over which you gain 1808 meters or 6000 feet in height. This results in an average percentage of 7.4 %.
We actually started in Lasa which adds another 2000+ feet of climbing as a warmup before the 48 switchbacks begin. It was a beautiful morning and a great ride to Prato.
The switchbacks are numbered, beginning at 48 and decreasing to 1. It's nice to know how many you have left to go, but we're sure we saw 44 at least twice! Unlike many of the riders, we did not time trial it to the top. We enjoyed testing ourselves up Alpe D'Huez, but we were here for the photos today.
It was a superb day for pictures. The sun was very cooperative, and although there was snow on top, the temperature was about 70 degrees Fahrenheit. We completed the climb in a little under three hours. That's about five miles per hour average with many photo stops. Our average speed was more like seven miles per hour. On a good day, we could probably cover the fifteen miles in closer to two hours.
At the top we were talking to other cyclists and looking own the backside of Stelvio toward Bormio and made a decision to skip the descent and ride in the van. As much as I've enjoyed the descents of other mountains, this one did not look like fun. The road is fast, with very sharp, tight turns, and a huge tour bus stuck in every corner with no way to get around.
Another great day of riding. We can't wait til tomorrow!
Sunday, 6.21.98 – Bormio to Chiavenna
Are these really my legs. I can't believe how much they hurt. I'd feel bad about complaining but it's the topic of conversation for everyone today. We're all hoping that breakfast will magically cure all of these muscle aches. And there's four passes today?
Fortunately the mountain passes are short. There's only 7000 feet of climbing today with 10000 feet of descents! Okay, we're ready. Another great breakfast, and it's off to Switzerland.
As always, we were on our own, with a backpack full of camera lenses and cameras loaded with slide film. Oh look, there goes the pack and someone just took our pictures with their cute little pocket camera!
The climbs went by rather quickly, and we made pretty good time today. The roads we were on were going to be closed early for the Tour de Suisse (Tour of Switzerland) bicycle race and we wanted to be in position to take pictures at the top of the hill of the first big sprint (King of the Mountain).
We made it just in time! The Tour de Suisse was our first time to see a major International Bike Race up close and personal. Shortly after we arrived, a black Mercedes pulled up and the five judges for the sprint exited and took their places. Then the team cars and entourage came up the hill followed by the lead riders off the front on a breakaway, and finally, the main peloton.
When a couple smaller groups of riders passed, the judges up and left as well as all of the spectators. So we jumped on our bikes and continued on our way to St.Moritz. As we were headed into town, spectators on the side of the road began cheering us on. Little did we know but there were still two more riders on the course behind us and the crowd was anticipating their arrival!.
Of course, as soon as the crowds started cheering, I heard Judith's gears shifting up. So, we biked a little faster than planned until we exited the course. The ride along the lakes was quite pleasant, and the 30k downhill to our destination was awesome.
Sunday, 6.21.98 – Chiavenna to Madonna di Ghisallo
This should be a fun day – 35 miles to Cadenabbia to ferry across Lake Como to Bellagio. Oh, and the last ferry is at 11:30 A.M. Yes, today was the day we joined the main peloton and drafted our way to the lake. Fred even took a few turns at the front! It was somewhat of a bummer to take the bypasses around the tunnels along the lake toward the end, but the car traffic in the dark tunnels was pretty bad.
The last climb was up to the Madonna di Ghisallo – a church as well as a museum for bicycling. The climb is famous and has been part of the Giro Dd"Italia. Inside there are bicycles used by Bartali, Coppi, and Merckx. Check out the Eddy Merckx one, and look at the gear he used. There are also a lot of original maillot (pink , yellow, rainbow ) belonging to all time champions.
While we were there, Gianni Bugno biked up, stopped in to say a prayer and headed out. Check our photos to see more of this visit.
All in all, the trip was even more fantastic than we imagined. Fred did have some problems with hydration and cramping that limited some of our optional ride mileage (he was on diuretics for a medical condition), and Judith had a problem with her brakes that limited her downhill speeds, but such is life. It would be quite a while after the trip before we finally discovered a factory problem with Judith's brakes (that only happened on very steep descents).
The problems probably kept us from overextending ourselves even more. After all, we were the oldest, fattest, and slowest riders!
Hope you enjoy our pictures – Fred and Judith