Click on any thumbnail below to see a larger version of the picture
"Stein-am-Rhein"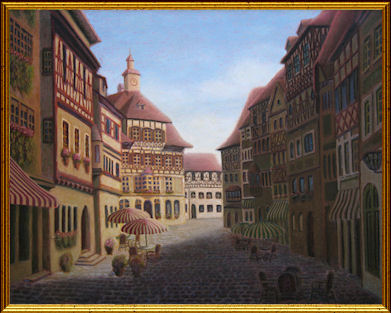 Stein am Rhein is widely regarded as Switzerland's best preserved medieval small town. it is well known for its intact medieval town center with ancient framed houses, some painted with flamboyant frescoes, and for its picturesque narrow lanes.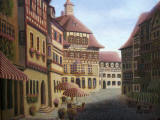 I just loved the sunlight and shadows on the beautiful restored medieval buildings. I apologize to any resident of Stein-am-Rhein who happens upon this painting, as I did alter many windows and doors for artistic purposes, mostly for simplicity.

This is a painting that hangs in my bedroom and I wanted it to remind me of the rich reds and browns of the buildings.
I also loved the cobblestone streets, the flowers, and the cafe umbrellas.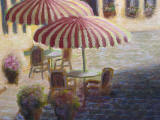 The painting is lighted by a ceiling light that I enjoy dimming in the evening to simulate "night" in Stein-am-Rhein.