Click on any picture below to see a larger version
Today we toured Sevilla's Alcazar. Known as The Royal Alcazar, Sevilla's Royal Palace
was originally a Moorish fort built in the 10th century by the first Caliph of Andalucia.
The construction of the current Royal Alcazar began in the 14th century.
It is the best example of Mudejar architectural style in Spain, although Islamic,
Gothic, Renaissance and Baroque elements can be found as well.
Above - The entrance to the Alcazar, and the Patio del Léon
Below Patio de la Montería with semi-circular plain brick arches,
resting on Ionic marble columns above and on Tuscan columns below.
Above - Don Pedro's Palace, the Admiral's Suite, and the Altarpiece in the Chapel
Below - Patio de las Doncellas (Courtyard of the Maidens). The royal architect Luis de Vega
designed this courtyard in the Italian style with semi-circular arches on marble columns,
with marble pedestals and balustrades. The upper level was finished in 1572.
Below - beautiful arches in the Alcazar.
Stucco panels with elaborate designs, colorful ceramic tiles, coffered wooden ceilings,
and lobed arches atop slender columns are a photographer's delight
Tile dado by Cristóbal de Augusta (1577-78)
Somewhat like tapestries, the dados have a lower frieze, two upper friezes and a central
panel framed by vertical borders. The lower frieze continues around the rooms
and features pairs of animals, faced to face.
The Mercury fountain - Mercury stands on a pedestal with
cherubs and monsters with water spouts in their mouths.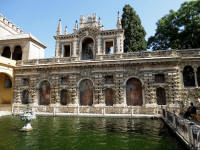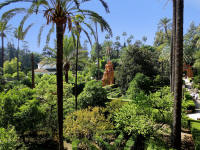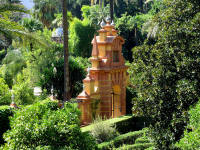 Jardín del Estanque

This garden was named after the large water reservoir which formed the basis for the pool,
a cistern which once collected water for the palace and for irrigation.
The northern side of the area (the yellow pavilion) gives access to the Palacio Gótico
The palace of the Kings of Seville has the largest late-medieval garden in Europe.