Click on any picture below to see a larger version
5/24 Mon - We toured the Basilica di Santa Croce (Basilica of the Holy Cross),
the principal Franciscan church of Florence, Italy this morning.
The Basilica is the largest Franciscan church in the world. Its most notable features are
its sixteen chapels, many of them decorated with frescoes by Giotto and his pupils,
and its tombs and cenotaphs. The frescoes were very interesting,
and we enjoyed the leather school behind the church.
Above - Santa Croce in shadow, in sunlight, and in the evening
Below - the interior of Santa Croce with its numerous chapels
Below, left - Galileo's tomb Below, middle - stained glass window
Below, right - Assumption of the Virgin by Guiseppe Bezzuoli, 1840, oil on canvas
Below, left - The Deposition from the Cross by Francesco Salvati 1547-1548
Below, middle - Descent of Christ into Limbo Painted by Agnolo Bronzino. 1552
Below, right - Presentation of Mary in the Temple by Taddeo Gaddi 1328-1330
Below - The Coronation of the Virgin (c.1380-90), tempera on wood by Agnola Gaddi.
This painting is probably the central panel of an altarpiece
Below - Piazza de la Republica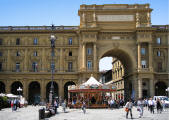 Below - Judith and Fred in front of the Fountain of Neptune
In the late afternoon, we walked up to Piazzale Michelangelo, a famous square
with a magnificent panoramic view of Florence.
It is a very popular gathering place for young people.
We intended to stay there until evening to see the city lights,
but instead decided to hike around the hills.
Later, we attended another concert.