Click on any picture below to see a larger version
5/12 Wed – We drove to San Gimignano today. It really rained.
A tourist slipped and fell in front of us in the old town when a torrent
of water just gushed down the cobblestone street like a river.
Below - Goodbye Chianti and hello San Gimignano.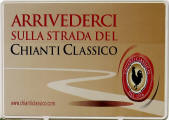 In the heart of Tuscany, the towers of San Gimignano dominate the whole valley.
The medieval skyscrapers of San Gimignano are among Tuscany's most famous views
Lightning struck one of the towers and we were glad we weren't climbing it at the time!
Above - Part of an inner wall at the Collegiata, the main church of San Gimignano
The town is encircled by ancient walls and ramparts which kept it almost untouched during the centuries.
Below - This is our 20th Wedding Anniversary and we celebrated at a special restaurant.
Judith had Risotto with herbs and I had Gnocchi in a tomato cream sauce that was incredible.
For appetizers, Judith had fagiole (white beans in a fabulous sauce) and I had a great salad.
Below - This area is known for its ceramics and the shops in San Gimignano were incredible.