Click on any thumbnail below to see a larger version of the picture
"Rancho San Antonio Two" - Second new painting with brushes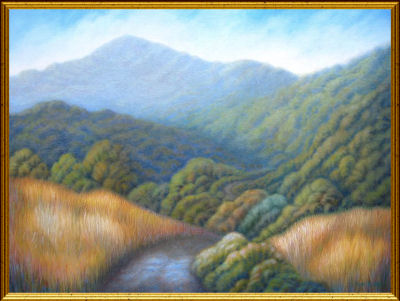 After completion of "Rancho San Antonio One" I decided that I had another version brewing inside me. The first painting was everything that I wanted it to be, but I was almost imprisoned by my desire to capture my feelings and get them on canvas, as opposed to appreciating the beauty of the landscape and developing the "artistic" composition that was also screaming to be put in oil.
Hence, "Rancho San Antonio Two" was born. I used the same sketches utilized to create "Rancho San Antonio One". It was an interesting experiment and the finished paintings were quite informative. While I hoped the viewer might feel what I felt in the first painting, I hoped that all of my feelings were removed in the second painting and the onlooker could appreciate it as an artistic composition and pursue their own interpretation and feelings toward it.
Some of the changes were:
1) Instead of dropping into the unknown, I lengthened the path in the foreground and added a path in the distance.
2) I brightened everything (and removed the dark center) and opened everything up to depict a grander space.
3) I pushed the mountains further into the distance and added more sky and atmosphere.
4) I changed the composition slightly to depict more layers of hills.
"Rancho San Antonio One" "Rancho San Antonio Two"
Above left, mountains from the second painting Above right, mountains from the first painting