Click on any thumbnail below to see a larger version of the picture
"Rancho San Antonio One" - First new painting with brushes
In 2003, I decided to christen my new studio and start a series of landscape paintings. I also decided that I wanted to create smaller paintings done with brushes instead of palette knives (and oil paint, of course).
We have a wonderful park (actually 4000+ acre preserve) near us called Rancho San Antonio. It has mountains and valleys covered with oaks, bays, pines, firs, manzanita and grasses. I particularly liked the view dropping down from the Upper High Meadow Trail down into Wildcat Canyon. This is what I hoped to capture in the painting above titled "Rancho San Antonio One."
This painting was all about my feelings on the hike. When I am alone, I often fantasize about my surroundings. On this day, I imagined I was exploring an alien planet. What would I find? As I leave the safety of the upper meadow and head down into the dark, heavily forested valley, will this be the last time I see the mountains in the distance?
Speaking of the mountain view, my camera did not do justice to this painting. Above is a close-up which more accurately depicts what the mountains in the distance look like in the painting.
Evolution of a painting from first sketch to final oil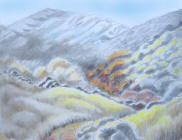 Paper sketch. I want to capture the feeling of winding down the trail into the valley. The composition is fairly simple - everything leads to the dark brown mass of trees deep in the valley. They should stand out against the light gold grasses of the upper meadow in the immediate foreground.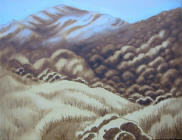 9/23/03, Oil on canvas sketch. I changed the composition to better emphasize the valley. I really wanted to emphasize diving into the deep, dark depths of the unknown.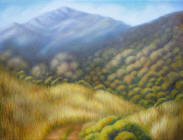 First color is applied. This just gives me something to evaluate and/or rip apart. I'm almost never satisfied with the first application of color. I always feel that my sketches capture the true feeling at the time, and color kills that dramatic composition. But this is only the first layer. Eventually, the real painting will surface.