Click on any picture below to see a larger version
5/23 Sun – We spent half of the day at the Uffizi Museum. This is a great museum.
We had to make reservations months in advance, and were glad we did.
The lines for people hoping to get same day tickets went on forever.
Above - Three different photos of Ponte Vecchio
Below - Rowers on the Arno River near Ponte Vecchio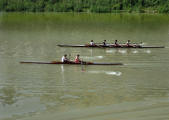 Below - We encountered a parade of people in Medieval costumes.
In the evening we found another concert. This city is wonderful.
There are so many choices of things to do. Originally we were going to rent bikes here,
but just walking around through all of the different areas of Firenze is just great.