We enjoyed hiking and biking with old and new friends
Click on any picture below to see a larger version
6.30.08 - Paolo led us on a hike through Val di Gotres up to Forcella Lerosa
Below - A downhill run, lunch at the hutte, and another hike
Below - 7.01.08 - Hike around Tre Cime di Lavaredo
We trekked past lakes, over the rocks and through the snow.
Our intrepid hikers continued to climb and descend with a smile.
Finally, lunch is served - and three take a nap
Below - 7.02.08 - Hike to Cinque Torri
Above - The group posed for the cave photo
Why is Pamela in all of these photos? She was everywhere.
Below - Almost at the top of another ridge
Below, lunch at another hutte - Pamela tries the grappa
Below, Gerhard and Darlene - The bikes arrive in Cortina
Below - 7.03.08 - Warmup bike ride around Bolzano
Below - 7.04.08 - Bike Ride from Bolzano to Trento
Matteo and the support van were evrywhere.
Below - Dinner at the Grand Hotel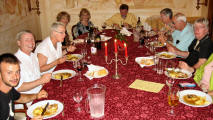 Below - 7.06,07.08 - The bike ride from Peschiera del Garda to romantic Verona
Below - Our favorite gelato stop in Bussolengo
Below - 7.08.08 - Getting ready for the Bike Ride from Vicenza to Padua
Below - Vineyards and villas
We stopped at the Villa da Schia and explored the gardens.
7.10.08 - The trip ended in magical Venice
We and our luggage were transported by boat to the hotel.
Below - Our party enjoying a drink at the hotel pier on the lagoon.
Below - Our party chanting in the cave
Below - Our final elegant dinner in the hotel garden