We rode from Vicenza to legendary Padua (Padova)
Click on any picture below to see a larger version
There are many grand villas that were built in this area of Italy.
Below, we stopped at the Villa da Schio. Judith enjoyed the gardens.
The Garden of Villa da Schio, originally planned by Francesco Trento,
has been embellished and beloved (just as the Villa and the "Grotta" standing above)
by Giovanni and Alvise da Schio from the early 1800's to the late 1900's.
A niche, encrusted with stones, evokes a reef sheltering a beautiful Goddess
of the Sea from whose breasts spout two jets of clear water.
Also above, the principal monument of the da Schio Garden: Neptune's Fountain.
Below left, a villa along the way - below right, Basilica di Santa Giustino
Padua (Padova in Italian) is a pilgrimage city, millions of pilgrims come here every year
to visit the "Basilica di Sant'Antonio", where the grave of Saint Anthony is preserved.
The actual Basilica is largely the result of three different reconstructions,
which took place over a period of about 70 years: 1238-1310.
Above middle, this bronze (man on horseback), by Donotello, was the first
and largest bronze created in the Renaissance since before the dark ages.
This Basilica, also known as the Santo's Basilica, is a 1232 work.
It has eight Byzantine domes, similar to the domes of the San Marco's Basilica, in Venice.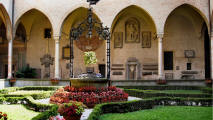 Above, Exiting the Basilica from the only Sacristy door which opens to the outside,
you enter the Noviciate Courtyard, the name of which comes
from the fact that the novices' rooms are located along one side.
Above, the Magnolia Courtyard, so-called because of the
"Magnolia grandiflora" which was planted in the centre in 1810.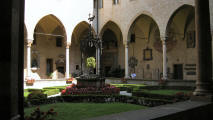 Above, exiting the Magnolia Courtyard you can enter the General's Courtyard.
It has this name because the accommodations are reserved for the General of the Order
Below, looking at St. Anthony's from the Prato della Valle. The Prato is a huge oval formed
piazza (square) surrounded by a channel. It is the largest square in Europe
There are many sculptures on the channel sides.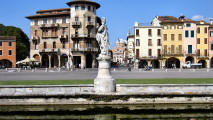 Below, looking out from the Prato della Valle to yet another eight domed church,
the Basilica di Santa Giustina. It was founded in the 5th century
and restored in the 16th century. It is the ninth largest church in the world.
The Basilica was built on the tomb of Saint Justine of Padua,
and is home to important art works. Below are three huge oil paintings on the walls inside.
After dinner, we spent some more time at the square.
We could easily spend another week in Padua.