Click on any picture below to see a larger version
4/18 - Amersfoort to Utrecht - A good start to the day for our 40 mile ride with sunshine
and about 5 miles of riding through a natural park/forest. As soon as we left the protection
of the trees, we were hit by CONSTANT 30-40 mph head or cross winds.
Even though we are exhausted and our arms hurt from stuggling
to keep the bikes upright, the great scenery was worth it!
ABOVE - This is what the bike paths look like in the cities.
Judith on hard-packed dirt trail through the natural park.
Judith at one of the trail intersections in the park. Fietspad means "bikepath"
Below - The winds are howling!!!
The flag and blowing willow tree give a good indication of the wind force -
hard to stay upright with the cross-winds.
Below - Oops! This is what a 50mph gust does. It blew Judith across the road
& almost into the canal. We had to walk our bikes for the next mile or so until
we turned out of the cross-wind. Even walking, it was hard to keep the bikes upright
Below, left - Stork nests everywhere - this one looked like it was feeding babies
Judith in central old town of Utrecht with Cathedral Tower
Below - Busy Old Town area of Utrecht. No matter where you go, it seems
you can see the tower. Domtoren (Cathedral Tower) is in Utrecht's exact center.
At 368 ft, it is Holland's highest tower. It was built in the early 1500s
Below - Another view of the Cathedral Tower.
The Gothic Dom Cathedral behind the tower was completed in 1520.
Below - Cherry blossoms in the courtyard of Utrecht University
Below, left - Another church and Old Town view. Utrecht is famous for the 1713 Treaty
that is considered an important event paving the way for today's EU and United Nations.
Below, middle - Front of Utrecht University. Founded in 1632, it is the 2nd oldest university
in the world (after Leiden) to have an observatory.
Utrecht is the lively, beating heart of Holland. It was built around the Dom tower,
which you can see from any point in the city, so there is no way you can get lost
in the attractive, car-free city centre. Utrecht boasts beautiful canals with
extraordinary wharf cellars housing cafés and terraces by the water.
We ate at a wonderful Greek restaurant with a wharf cellar and terrace.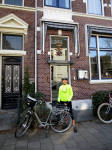 Above - Judith in front of our hotel