9.9.09 - Our second day of bicycling and Fred's camera is still on the wrong setting!
Click on any picture below to see a larger version
Above - Le Chateau de Losse in Thonac and a geese farm in Tursac
I kinda like green and gray pictures.
Below - The Geese Farm in Tursac. Yay, Judith snapped a color photo!
Below - Debra and the Dinosaur - Beauty and the Bridge
Below - Roque St. Christophe - The cliff contains five levels of natural caves
which were used as dwelling space from prehistory through the Middle Ages.
Below - drawing of what it might have
looked like as a fortified medieval town.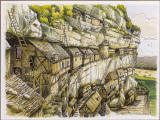 Below - Judith rides into St. Léon sur Vézère
Below - Romanesque Church, Vézère River, Weeping Willow trees along the water
This village of stone houses defines "narrow streets"
This is certainly one of the most beautiful villages in France
Judith decided to continue her lace curtain series
Below - Fred is still taking his green and gray photos
Below - Storage for the stones used for construction of houses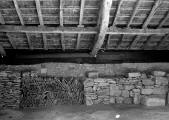 Below - Chateau de Losse, a fifteenth century castle
Below - Small church in Montignac
Below - Montignac is divided by the Vézère River
You would think that Fred would figure out that he is missing some colors
in that LCD on his camera - but you would be wrong!
Below - Judith's Montignac flower series
Below - Castel Merle in Sergeac
Above - Fred's photos Below - Judith's pics