Click on any picture below to see a larger version
9/27 - We flew from Barcelona to Mallorca, the largest of the Balearic Islands
off the coast of Spain, surrounded by the crystal blue Mediterranean Sea.

Mallorca, or Majorca, is an island where visitors are easily spoiled by the vibrant vistas;
sea and mountain landscapes to languish over; almond, olive, citrus and evergreen groves
and charming rural villages. A mild climate offers plenty of opportunities for sports and leisure,
making this island an ideal destination. And the pro cyclists train here! Why not us?
Playa de Palma is a long stretch of beach, about 10km to the east of Palma de Mallorca,
It is Mallorca's biggest holiday resort.
ABOVE - Welcome to Mallorca!
BELOW - View from the balcony of our room. The main swimming pool
is in the middle of the pic , behind the palm trees. This place is huge.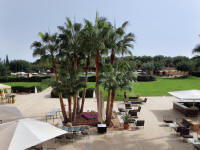 We stayed at the Iberostar Resort and Spa. Yes, we were spoiled!