Click on any picture below to see a larger version
9/24 - We arrived in Barcelona, Spain and looked around the city.
Barcelona, Spain's second largest city, bubbles with life in its narrow Barri Gotic alleys,
along the grand boulevards, and throughout the chic, grid-planned, new part of town.
This top Mediterranean trading center is also the capital of the proud region of Catalunya.
Since our hotel was near Plaça Catalunya, we started our visit there.
ABOVE - Buildings around the Plaça Catalunya.
The Plaça de Catalunya, a large plaza surrounded by monumental buildings,
is Barcelona's busiest square. It is located between the old city (Ciutat Vella)
and the nineteenth century Eixample district.
Even though the square is enormous in size, it is constantly crowded with people
walking to and from one of the nine streets emanating from the square.
BELOW - The fountains in Plaça Catalunya.
BELOW - We found a wonderful vegan/vegetarian restaurant a few steps from our hotel.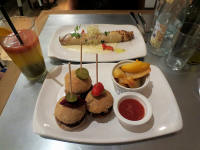 BELOW - La Mercè Festival

La Mercè is the annual festival of the city of Barcelona in Catalonia, Spain. It has been an
official city holiday since 1871. The celebration of la Mercè has religious origins,
honoring the Virgin of Grace (Mare de Déu de la Mercè), patron saint of the archdiocese
of Barcelona, and we were fortunate enough to arrive on the final day of festivities!
I think every entertainer in Spain was onstage at least once today.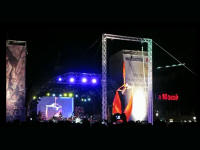 ABOVE is a frame of one of the many videos that I shot at the all night party!
We ended up staying up half the night in Plaça Catalunya, watching all of the entertainers!