Click on any picture below to see a larger version
10/06 - Last and BEST cycling day - Cala Sant Vicent to Cap de Formentor
Today was a picture perfect day in every way! Beautiful clear weather and not too hot (70's),
great climbs & screaming descents, spectacular views in all directions.
We rode along a peninsula out to the lighthouse at the end of Cap de Formentor and back.
ABOVE - Views of the hills on the way to Port de Pollenca.
BELOW - On the climb, looking back toward Port de Pollenca.
Higher on the climb, we can still see Port de Pollenca in the distance.
Beautiful views the entire day as we cycled up and down the ridge,
out the peninsula to Cap de Formentor.
Photos from a few of the many lookout points.
BELOW left - Judith (and lots of other people) walked
up to the outlook point high in the background.
BELOW middle Judith at the top of the first hill. Still have three more climbs to go.
BELOW right - At the view point on the top of the first hill. We descend then climb
three more times before arriving at the lighthouse
BELOW right - The lighthouse is still hidden from view and beyond the large hill in the distance.
BELOW left - The middle section of the peninsula is covered with lots of
pine trees, low shrubs and rosemary
BELOW - middle and right - Beautiful cove below! There was a great beach
at the end that we wished we could relax on for a while.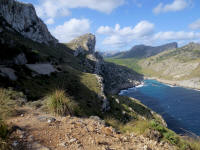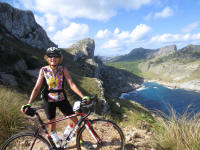 ·

Judith can't stop saying "WOW - what a view!"

BELOW middle and right - Looking toward a peninsula on the opposite side
of the bay that goes into Port de Pollenca
BELOW middle - Back into the rocky landscape near the end.
The first view of the lighthouse is just around the corner
BELOW right - Finally, the lighthouse and the end of the road!! Only a few more hills to go!
BELOW middle - Must have been a hard job building this road!
BELOW - Looking back from the lighthouse.
The Far des Cap de Formentor (Cape Formentor Lighthouse) is quite striking, the way lighthouses
always seem to be, but two things make this lighthouse better than most that you will have seen.
For one, the approach by road from Port de Pollença has to be one of the most scenic routes
anywhere in Mallorca. The landscape is just breathtaking. And then, once you are at the lighthouse,
the panoramic views across the cliffs and rocks of the tail end of the Serra de Tramuntana
mountain range are just mind-blowing. The views across the Mediterranean
Sea are simply overwhelming and magnificent.
BELOW - At the lighthouse - so glad we made it!
Now to go down and back up again and again and again!!
BELOW - The group put on a mock wedding fashion show for Tina, who is getting married.
BELOW - On the last night, our hotel host plied us with mimosas and appetizers!
BELOW - Vegetable Paella
BELOW - Julio removes my pedals and takes the bikes back.