Click on any thumbnail below to see pictures from that ride
Mount Tamalpais March 29, 2003
Vistas from our ride up Mount Tamalpais
Must take pictures of the redwoods as we pass through
The descent to Bolinas from the ridge
St. Jude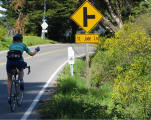 Mount Tamalpais April 4, 2004
As with all of our rides, we try to take different pictures each time.
The views from the mountain are always spectacular
On to Point Reyes Station for lunch
Mount Tamalpais November 12, 2006
It's winter and the forecast is for our first rain but we still decided to bike Mt Tam
These views are from Ridgecrest Road a ridge dividing the ocean from the bay
Turn your head one direction and see the Pacific or the other to see S.F. Bay
We probably saw a hundred other bicyclists on the road
We descended to Alpine Lake today and then down to Fairfax
Mount Tamalpais March 29, 2003
A little fog out on the ocean but a bright sunny day on the mountain
Below - Looking down on Bolinas Bay
Below - Riding across Ridgecrest - 2500 feet above sea level - with views
of the Pacific Ocean on one side and the San Francisco Bay on the other side
Below - Judith and Blue Lupine
Below- Blue Lupine everywere
Below - Waterfall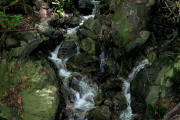 Below - Judith on Coast Highway
Below - The bike path through Samuel P. Taylor State Park
The park features a contrast of coast redwoods and open grassland.