Click on any thumbnail below to see a larger version of the picture
"Living San Jose"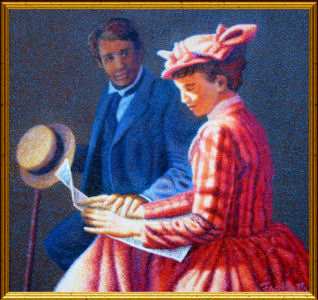 This painting was inspired by Renoir's "La Loge"
I liked the idea of the man being in shadow, and the woman in bright light and stripes.
I wanted the viewer to be able to circle the points of interest from the brightly lit and detailed face of the woman to her arm, hands, up to the man's hat and finally his face. But I found that I got stuck at the hands, so I pointed her small finger to the cane holding the hat.
Today, I would probably bend her finger in slightly.
Close-up of the man and woman. The title of this painting (Living San Jose) refers to the annual event at the San Jose Historical Museum. Everyone dresses in period costume and there are demonstrations (like making yarn, etc.) and displays showing what it was like to live in San Jose a hundred and twenty years ago.
In the detail above, you can see a little different palette knife technique. Rather that the normal stippling and scraping, the hair has been sculpted with the knife as if it were a brush.