9.8.09 - Our first full day of bicycling
Click on any picture below to see a larger version
Above - We visited an artist's studio and then headed to the market.
Below - The market in Le Bugue
Below - Escargots vivant - yes, that's live snails!
Below - Some accidental camera experimentation
Below - Remember black and white?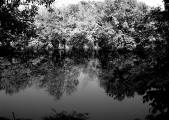 Below - Grotte de Font-de-Gaume
Below - My camera kept accidentally slipping into the color accent mode
It took me two days to realize I was only recording green. All other colors
were changed to Gray tones. It made for some interesting photos!
Fortunately, Judith took some color pics.
Above - Hotel-Restaurant Laboderie and the church in Tamnies-en-Perigord
Below - We made it back to our hotel in Les Eyzies - Fred at the garage
Below - Debra and Fred celebrate the day