Windy Hill Open Space Preserve - February 1, 2004
Into the woods we go. Above right is a low-res panorama of Windy Hill.
Below left is a Medium-res pan and below right is a High Resolution pan
Except for Windy Hill at the top, the trail is covered in forest
Of course, Judith stopped immediately for sticky monkey flowers.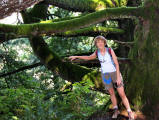 Above - It's pretty green in here
Below, Left = lo res Right = medium res
Judith on the trail.
Below - Every trail seems to have a Fred
Below - Gnarly trees
Below - Dappled light on the trail - left = lo res, right = med res
Below - View of the Bay
Below are a series of panoramas. the first is a lo res picture

Second, below, is a medium resolution picture

Third, below, is a high resolution picture

And, finally, the Madrone
Windy Hill Hike - April 22, 2010
Windy Hill - A springtime pleasure
Flora and Fauna