Black Mountain hike - July 6, 2006
The view out to the San Francisco Bay from various points on the trail
Above, a panorama of the Bay Area
I just love the dappled light and the trees
Yellow and green everywhere this time of year.
In and out of the trees
Wow, look at all of the flowers everywhere!
Here snakey, snakey...
Black Mountain hike - May 8, 2008
It's 10:30 A.M. in Mountain View, California. You enjoyed a great breakfast
with Fred and Judith, and you're ready to take a hike!
Ten minutes later, you're at Rhu's Ridge.
Click on any picture below to see a larger version
Above - Mule Deer in the meadow on the way up Black Mountain
Below - Butterflies were everywhere along the trail
Below - May flowers covered the hillsides
Below - The trail winds through the forest on the way up Black Mountain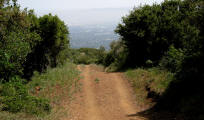 Black Mountain Hike April 13, 2010
Black Mountain in the springtime - lots of wildflowers