Click on any thumbnail below to see a larger version of the picture
"Impressionist Isle One"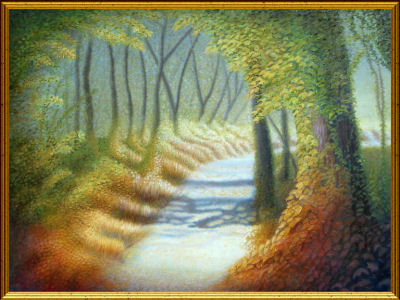 In the middle of the Seine (river in France) near the town of Chatou is a small island which has become known as the Isle of the Impressionists. Nearby at the Château Fournaise is where Renoir painted his famous "Luncheon of the Boating Party."
When I was there sketching and taking photos (many years ago) I was awestruck by the scenery. I could easily see how the impressionists (especially Renoir and Monet) were inspired to paint here. The dappled light from the trees, the water, the misty color - it's all there.
This year I ran across the slides from that trip and decided to try a couple paintings of my memories. The painting above is a result of that endeavor.