We rode from Trento through the mountains to Lago Garda
Click on any picture below to see a larger version
It didn't start out that way, but today ended up being "the day from hell".
Last night Gerhard suggested an optional ride for us, so we left early before the others met.
We headed out southeast and to Valsorda where the climbing started (above).
Below - The views down to the valley were grand.
We rode up to Mattarello at 1435 feet and on to Sella di Vigolo Vattaro at 2400feet (750m)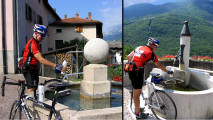 The climbing was nice and there was water in the little towns and villages
The Passo della Fricca is 21,15 km long 1110 meters in elevation (3660feet)
Most of the ride was through a forested mountain area with great vistas.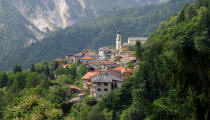 After the pass we were surprised with a dark tunnel that went DOWN for almost a kilometer (904m)
At Sella Carbonare, we started to worry about time.
At San Sebastiano, we knew we were in trouble.
The next pass was Passo del Sommo at 1343 meters (4430 feet)
The time stamp on the photo below was 11:58 A.M.
As we descended to Calliano, we snapped a photo of the medieval Castle Beseno,.
At over 14,000 sq. meters, it is the largest fortification in the region of Trentino.
Until the early 1950's the castle was owned by the Von Trapp family.
Above left, the Castle Beseno - Above right, a mountain village
From Calliano we biked south to Rovereto, and down to the bike path
We were on the bike path with 30k to go at 1:00 P.M. We needed to be at the boat dock
at Riva Garda by 3:00 P.M. We felt under good conditions, we could average 30K/hr.
Above are the last photos we took for the day at 1:30 P.M..
In Nago we got terribly lost and didn't get to Torbole until about 2:45 P.M.
We then fought the incredible crowds along the lake (where no biking was allowed at the time)
and didn't get to the boat landing until 3:30 P.M. only to find out no one was there to meet us.
After a half hour of searching, then buying a phone card, and finally finding someone to
show us how the pay phone worked, we connected to Gerhard. The meeting place changed.
In the van to Peschiera del Garda, Judith discovered she lost her camera. What a day!
We again apologize to our cycling companions (especially Diane) for being late.