9.15.09 - Our eighth day of bicycling. Let's climb up and see some chateaus
Click on any picture below to see a larger version
Judith and the old fortress château of Beynac
The castle was built in the 12th century
Below - Judith and Fred clowning, Debra petting the geese
Below - Judith rides up to Château Les Milandes
Below - Judith entering the beautiful town of Domme
Known as the Acropolis of the Dordogne, Domme is situated
on a rocky crag overlooking the Dordogne Valley.
Below - Fred, Judith, and Debra at the 17c covered market
Judith loves animals. Below - duck and polar bear
Below - Cafe in Domme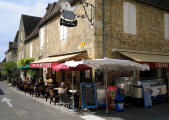 Below - Arrival at our hotel in Le Roque Gageac
The village is huddled against a cliff which drops vertically to the River Dordogne.