The Hike at Tre Cime was the most spectacular day of the trip
Click on any picture below to see a larger version
Tre Cime di Lavaredo - Italian for "three peaks of Lavaredo"

The Tre Cime di Lavaredo (aka in German, Drei Zinnen) are the symbol of the Italian Dolomites.
The massif stands alone with no other peaks in the immediate vicinity, accentuating its height and beauty.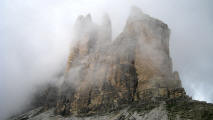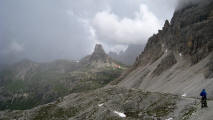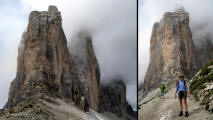 The Tre Cime di Lavaredo are three enormous free-standing limestone towers,
unique not only to the Dolomites but to the world.
The early morning fog only made everything even more mysterious.
The trails in the Dolomites are endless.
The mountain ranges just seem to go on forever.
The Tre Cime di Lavaredo are amongst the most beautiful and recognizable mountains in the Dolomites,
the Alps and the World. Cima Grande (the big peak) is 2998 meters high.
Below - We finally are far enough away (and without fog) to take a photo of Tre Cime.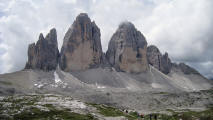 The three incredible peaks stand out from the gravel like the sails of a stone ship.
We actually have over 500 photos of this area. It was difficult to pick just a few to show.
Above - the bridge caused a little hesitance from a few.
Below - The flowers we should have found, and lunch at the Hutte
Below - Paolo asks where do you want to go next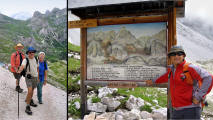 We even hiked through snow!
Try to count the number of mountain ranges in sight.
The trails are never-ending
Below left - David was snoring Below right - Alpine flowers