Click on any thumbnail below to see a larger version of the picture
Street Chess Players One
Canvas size: 39 inches by 54 inches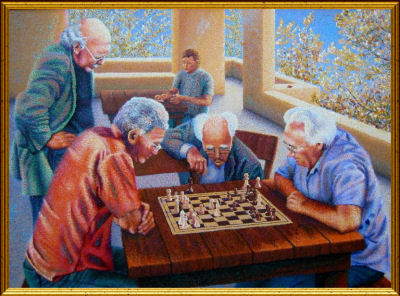 The Chess Series
In the mid 1980's my interest in chess resurfaced. In my travels, I sketched and photographed chess players in Paris, Hawaii, southern California and northern California. In 1986 my roommate was a chess master and journeyed to various states to compete as well as attending (as a spectator) the World Chess Championship in London, England.
When I finally started assembling pieces, I realized that I had some interesting sketches and photos, but no real plan of action. The chess games interested me and the chess players exuded some intrigue, but I was quite unhappy with background settings.
I finally just dug in and started painting in hopes that ideas would flow. Success was limited and I ended up abandoning the project. This page shows some of the paintings, most unfinished.
In Street Chess Players One (above), the two players are from sketches and photos in Hawaii. They originally had aloha shirts. The onlookers are from sketches and photos in Luxembourg Gardens in Paris, France. The background setting is from the US Chess Championship in 1986, held on the campus of the University of California, Berkeley at the Student Center.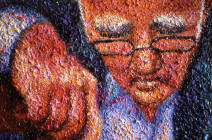 The focus is all about the game. In the close-up above, the onlooker sizes up the strategy.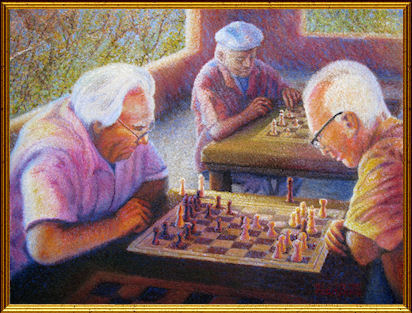 Street Chess Players Two
A variation of Street Chess Players One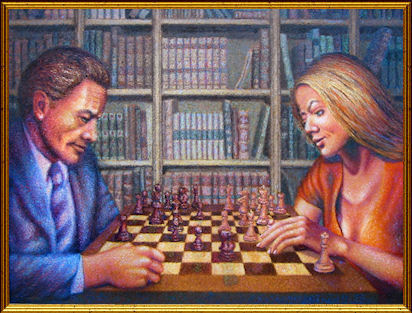 Your Move
The pieces depict an actual game that I played. Guess who is winning.

I changed her expression countless times before finalizing the "look".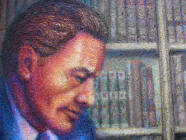 As with the woman, all of the expression is in the eyebrow and facial wrinkles.
Main Street Games. You can find these players on the main street along California and Hawaii beaches.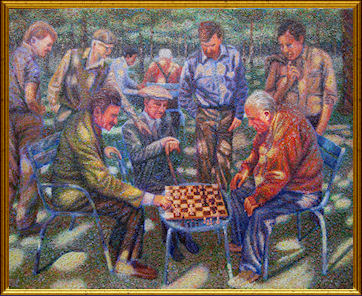 Luxembourg Gardens 1- Unfinished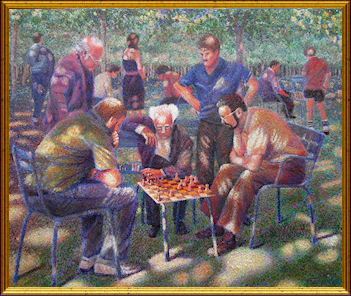 Luxembourg Gardens 2- Unfinished