9.22.09 - We spent two days in Carcassonne. We enjoyed hiking around.
Click on any picture below to see a larger version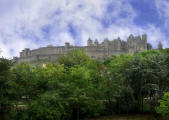 Above - Our first view of the medieval walled town from the Pont Vieux
Below - Judith at our hotel in Carcassonne
Carcassonne lies on the right bank of the River Aude and has 52 towers
and two rings of town walls.
Built over the ruins of a former Roman fortress, "La Cité" of Carcassonne
was the theater of the crusades against the heretics in the 13th century.
Carcassonne Castle is the best-preserved walled city in Europe.
Below - Sights around Carcassonne
Below - It's 7:00 P.M. in Carcassonne, and the shadows are getting long.
Above and Below - Fred and Judith pose on the walls