9.13.09 - Our sixth day of bicycling and we're ready for the vineyards
Click on any picture below to see a larger version
Above - Descending from St. Cirq with amazing views of the cliffs and the Lot River
Below - Another structure built into the rock
Below - Judith at a tobacco drying barn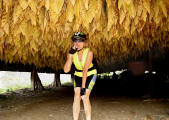 Below - Cathédrale Saint-Étienne de Cahors is a Roman Catholic cathedral
and a national monument of France. The church was built in the 11th century.
Below - A door on the right of the choir gives access to the Gothic-style cloister.
Below - Riding around the town of Cahors
Below - The Valentré Bridge, the symbol of the town.
Building began in 1308 and was completed in 1378.
Below - The vineyards around Cahors
Below - Judith samples the grapes - very sweet
Below - The winery visit and wine purchase
Below - Arrival at the chateau for the evening - Le Mas Azemar