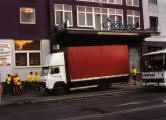 Tuesday, 9.26.00 – Komarno, Slovakia to Budapest, Hungary
The day began with a change of plans. Today, we left Komarno by bike and crossed the Danube River into Hungary. We traveled several kilometers in a group through the check stations at the border, as we were required to accompany our luggage (which was now on a bus. The van that had previously been our "sag vehicle" had to stay in Slovakia because Gerhard was unable to insure it in Hungary). After we crossed the border, we remained in a group since the original plan was to stay in Slovakia for most of that day and our route was now going to be through Hungary (which meant we had no route sheets).
As usual, Judith soon tired of the slow pace and we left the main group. In order to get back on the route sheet we need to wind our way down to the ferry crossing at Estergom. However, Estergom was such an exciting town that we decided to spend some time there before moving on. We toured the former fortress atop the hill and did some shopping. We finally realized that we had better get moving because we needed to be at a designated spot (by 5:00 PM) where everyone would be getting on the bus and putting their bikes on a truck for the final 30 km into Budapest.
Budapest is not a place that you want to tour on a bicycle. It is the largest city in Hungary and has NO freeways or Autobahn. The streets are all very narrow and overloaded with traffic (mostly diesel trucks). We're not sure if there is any smog control. You can watch the exhaust fumes rise from the vehicles to create a constant haze (worse smog than in LA)
We eventually caught up with some of the group and stayed with them for a while. We then crossed on a ferry to an island for more biking and finally boarded one more ferry to get back to the right bank of the Danube. The last bit of biking was enjoyable, as were the two ice cream stops.
In Szentendre, we loaded our bicycles onto a truck and toured the town. About 16000 of the 19000 people living in Szentendre claim to be potters, painters, and sculptors. They have endless shops and galleries to display their wares. We did a bit of shopping again and found great bargains.
The hotel in Budapest was on Margaret Island in the middle of the Danube. The island is about 2.5 kilometers long and is Budapest's most beautiful park. Automobile traffic is not allowed there but they rent bikes. The hotel was built in 1873, but amenities are very modern. They have pools, a huge therapy center and the famous thermal baths.
Dinner that evening was held in the dining room and was a test of our ability to either accept the poor service or be ugly Americans and demand to be accommodated. I somewhat failed the test. I guess because this was a four star hotel, I just expected more, without remembering that this country is just beginning to learn the tourist trade.
In all of the years that I've been traveling, I've tried very hard to abide by the customs and ways of the country where we are guests, but I guess I finally decided to be a little more assertive for once. All of the other tables around us (for people not in our group) were getting bread, water and other drinks, and even refills, while we just watched. I guess I was just really hungry and thirsty! Long after my meal was finished, I finally received minimum service.
I later talked to one of the employees taking a break outside, and he was very friendly. It seems that they just really need some training, plus they are a bit overworked and underpaid (most seemed to be working 12-hour shifts). It's always great to get to talk to people and learn more about their country.
The evening did end well. After dinner we decided to hit the dance floor and enjoy the music. We had a great time and once again wished the trip wasn't about to end.