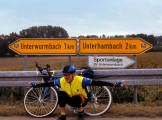 Tuesday, 9.19.00 – Eichstatt, Germany to Regensburg, Germany
The day began with a thick layer of fog, which dissipated, but it remained gray and cold for most of the day.
We encountered more headwinds for me to battle. It's so challenging to see how fast I can ride into the wind. Larger portions of the bike paths were unpaved today, but fairly smooth.
We stopped to take pictures of Burg Prunn in Essing. The castle looks as though it is an upward extension of a large curtain of rock. It looms high above the bike path we were traveling, and can be seen from afar.
Most of the day we followed the Altmuhl River. 90 kilometers into the ride we witnessed the confluence of the Atmuhl and the Danube rivers. We will now be following the Danube all the way to Budapest.
Today was truly a day of experimentation. Determined to see more towns and variations in scenery, we bicycled on highways, side roads, paved bike paths, dirt bike paths, tractor tracks through farm fields and vineyards, trails on top of dikes, and paths through forests. Of course this added a little mileage (or is it kilometerage?) but it definitely made for a more interesting day.
The sun finally came out about 2:30 PM while we were exploring Regensburg. Regensburg is a wonderful place. It is Germany's largest medieval city and contains more than 1200 historic buildings. We tried to see them all, but there was so little time. We did check out the Roman Gate (Porta Praetoria), the imposing Patricians' houses and the inside of the Cathedral of St. Peter.
We walked around the entire shopping area and tasted the usual bakery delights. We found some very different breads that we wished we purchased for snacks later.
Our hotel for the evening was on an island reached from the middle of the Steinere Brucke (Stone Bridge; 1135 AD). The bridge across the Danube is a medieval construction marvel that was repaired after WWII. The view from our hotel window of the main city is truly awe-inspiring.
We walked back to the city for dinner. Usually, if we don't eat at the hotel it's because the food is not up to standards or we can better sample the ambience of the area at a local restaurant. But this evening we went to the local Italian restaurant to carbo-load for tomorrow. Tomorrow will be about a hundred-mile day, and we ate an incredible amount of salad and pasta to prepare for it.