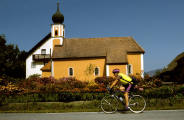 Wednesday, 9.20.00 – Regensburg, Germany to Passau, Germany
It was 50 degrees this morning, overcast, and the head winds were still blowing. It sounds like a great day to me. I can't imagine doing all of these miles on a hot, sunny day. Sun would be nice for the cameras, though. We are carrying three different cameras that we choose according to the light and distance.
Sunshine did prevail later and it was a little warmer. However, it was never really bright or hot. It was an interesting day following the Danube. It is certainly a river of many uses. Its personality changes constantly as it meanders through different towns. It's large enough to be a major canal, but because of the immense floodplain that accompanies it, many smaller waterways are created along the way that become special areas themselves. Sometimes they meander quite a ways inland and often create islands.
The smaller channels compose beautiful settings for camping, hiking, and just exploring. We saw numerous canoes and kayaks enjoying the larger and smaller watercourses. We were also sort of in a cruise mode ourselves. Much as I love hammering against headwinds, they sometimes creep up on you and take their toll. I sometimes get so engrossed in my quest to combat Mother Nature's breath of fresh air that I overdo it.
I neglected to drink enough water yesterday and developed leg cramps by the end of the day. So we were both taking it easy today. As a matter of fact, Judith led much of the way and I drafted her. I'd better watch out; I could get used to this! Did someone say," Get over it"?
We arrived in Passau late afternoon (we really did take it easy) and wandered a little before finally locating the hotel. We had a little trouble finding the correct bridge mentioned on the route sheet and ended up touring the town before we ultimately received directions at the tourist center. We then showered, changed clothes and walked around more of the town. Sooo little time…
We visited the Cathedral, which is truly incredible. It dominates Passau, sitting on the highest point in the town. Inside, we were overwhelmed by the sight of the largest organ in the world – 17,300 pipes, and 211 resounding registers. Unfortunately we didn't get to hear it being played.
The hotel is located near the tip of a peninsula formed by the junction of the Danube and the Inn River. The view out of our window looked across the Danube and was breathtaking. One of the best qualities of all of our hotels so far is the location. This one is no exception.