Thursday, 9.14.00 – Winningen, Germany to Hirschhorn (near Heidelberg), Germany
We had a nice easy ride today, passing through Koblenz, which is where the Mosel and the Rhine Rivers meet on their way to the North Sea. After meeting the Rhine, we then started upstream through the town of St. Goar, where we had stayed in a castle on the hill on a previous bike trip in this area.
This section of the Rhine is equal in scenic beauty to the Mosel with more castles on the hillsides and fewer vineyards. There is also a lot more river traffic, with many "cruise boats" taking tourists from around the world to see this beautiful and historic area. We visited St. Goar for a while to take pictures and eat. It's tough not being able to spend more time in such a beautiful place.
Back on the Rhine, we passed Lorelei – the legendary haunted rock. The Nibelungen treasure is said to be hidden here and from the rock a nymph was believed to lure boatmen to their deaths. The "rock" is quite an imposing sight, the summit of which is over 400 feet above the river.
We next decided that we needed more challenges, so we chose to do the optional ride up a 2500-foot hill with a continuous 13% grade. I attempted to keep up with Sharon, an eighty-pound woman with 60 pounds of leg muscle. Judith was smarter. She went for the low gears. We were both still sick (caught colds on the airplane) and suffered extra. Ah, this is cycling at its best!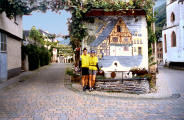 The rewards were plentiful. Waiting at the top of the hill for us was a plateau with a great view of the river and towns below. As we continued through farms and villages, Sharon said," Wow! This is a whole different Germany up here." The greatest reward was a breathtaking downhill through a magnificent forest into Bacharach, a very picturesque town of half-timbered houses. As you pass through the arch to go into the "old town", you feel like you've entered the pages of a storybook. We could not stop taking pictures.
Our destination on bikes today was Bingen, Germany. There we boarded a bus that took us to Hirschhorn (about 30 km farther than Heidelberg), where we stayed in a castle above the town. The bus trip was necessary to get us through the industrial area of Mannheim – Mainz - Heidelberg, and the unbelievable traffic. It is worse than our bay area traffic. There is a lane just for trucks, and it's not enough.
The castle absorbed at least two rolls of film. It'll be interesting to pick out the best pictures. The castle construction was begun around 1200 and originally had a 50-foot deep moat. It is an imposing structure that can be seen from miles around.
We somehow managed to ingest yet another extraordinary vegetarian dinner followed by lively conversation. We really "pigged out" on spaetzle, a kind of German noodle, and apple streusel. The desserts every night were fabulous. So far we are feeling very spoiled. We'd better not get too used to this lifestyle.