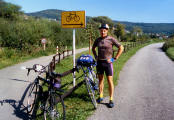 Monday, 9.11.00 – Habay-La-Nueve, Belgium to Echternach, Luxemburg
This was a wonderful day of riding. The sun was shining, skies were clear, and temperature ranging from 70-75 degrees. The first half of the day was rolling hills, generally, with a few short steep climbs. The vistas included romantic winding valleys of fast rivers cut into the plateau of high hills.
We ate lunch in Ettelbruck. Judith ate enough pasta and cheese to bike to the moon. It looked like such a small portion when she ordered it! After lunch, we walked around the pedestrian section of town, meeting other riders and sending them to "the lunch place" and then moved on to the next adventure.
The last 25-km today was on a paved bike path along the Sure River (pronounced Sauer). We were heading downstream, so it was an easy way to end the day. It was so easy that we decided to take on another optional ride.
Again, the option was well worth the extra effort. Of course it began with the usual uphill. We decided many trips ago that almost anything worth seeing involves a climb to get there. The scenery was awesome. In the middle of a great forest we encountered incredible rock formations that appeared to take on the shapes of many imaginative creations. It reminded us of the Garden of the Gods in Colorado.
We stopped at Diekirch and visited the ancient church dating back to the 7th century. Some well-preserved 4th century Roman mosaics depict the villas that were built by the Romans in the surrounding area. As we did in many towns on the trip, we lit candles for our loved ones.
The bike path back down through the forest to the hotel was unbelievable. We remarked what an engineering feat it was to build a dedicated bike path through such a beautiful area. It's hard to imagine a more breathtaking and peaceful path. Your first inclination is to immediately get off the bike, sit on one of the benches and just meditate about the wonders of life.
Of course the hotel for the evening was the Grand Hotel, and grand it was. In addition to lounging in the pool overlooking the river, we experienced the jacuzzi of a lifetime. We went into a room with two personal jacuzzis set into a raised floor with walls and a ceiling of tiles. You push the button on the wall and the tubs disinfect themselves and then fill with purified water. As soon as the bubbles begin, you hop in and enjoy. The bubbles were strong enough to feel like an all over body massage. If we had one of these every night of the trip we would easily take on the optional rides.