5/15 Sat – We checked out of Il Porto and received a bottle of wine as a going away present.
We drove to Assisi and met the keyholder to our next villa late afternoon. This place is great!
It's at the top of a hill with a 360 degree view. We can see Assisi from all of our windows.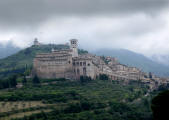 There is a remote operated gate, huge garden with roses, cherry trees with ripe cherries,
an herb garden with fresh herbs and arugula, and a huge swing hung from a very old oak tree.
And we're the only ones staying here!
We enjoyed the evening with a fire in the fireplace and wine and cheese, after a great dinner.
Of course it rained the entire day, but so far it's still fun.
5/16 Sun – What a strange day. It rained the entire day, but there was lots going on.
Assisi is the City of Peace (Pace in Italian), and there was a humungous peace walk
with thousands of people that tied up traffic for the entire day.
It was interesting but we won't bore you with marching crowd photos.
Above - Most of the streets in Assisi go up or down.
Below - There were patches of sunshine, as we walked all over Assisi.
Above - The streets of Assisi Below - The Basilica di San Francesco
Below - The Temple of Minerva was erected in the 1st century BC
In 1539 the inner sanctum was transformed into the church of Santa Maria Sopra Minerva
Below - A field of red poppies near our villa