Click on any picture below to see a larger version
5/17 Mon – We walked up to Assisi today and spent all morning in the lower church
of the Basilica Di San Francesco (St. Francis) looking at all of the frescoes.
Unfortunately, ALL photography was prohibited inside the church.
Too bad, because the basilica is one of the artistic highlights of medieval Europe.
Below - Our morning ritual - snapping a photo of Assisi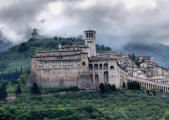 Below - Entrance to the lower church of the Basilica Di San Francesco
The church has three parts: the upper basilica, the lower basilica, and the saint's tomb
(the crypt below the lower basilica). In the 1997 earthquake, the lower basilica,
with walls nearly nine feet thick — was unscathed. The upper basilica,
with bigger windows and walls only three feet thick, was damaged.
Following a restoration, the entire church reopened to visitors in late 1999.
We visited the upper church in the afternoon.
When we arrived back at the villa, the owner was there with the gardener,
mowing the grass and trimming the vegetation.
The owner gave us a tour of the entire property, including the ancient watchtower,
and the gardens, before returning to her home in Bologna.
She said she's never seen this much rain in May since she's lived here.
But there was a short glimpse of sunshine and we managed a few photos today.