Click on any picture below to see a larger version
9/22/2015 - Today was the fifth day of our stay in Santa Margherita
Exploring the sights around Santa Margherita
Today was cloudy with a few light showers, so we took a "rest day"
and explored the sights of Santa Margherita.
ABOVE LEFT - Santa Margherita Virgin Martyr, the patron saint of the town
ABOVE RIGHT - Lots of colorful buildings in the background. The Art Nouveau painting
of the buildings began around 1900. There are lots of false balconies,
windows, saints, beautiful women and Gothic depictions.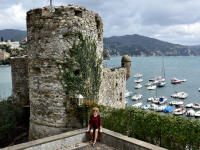 ABOVE LEFT - Judith at the Castle overlooking the town - built in the 16th century.

ABOVE and BELOW - Church of San Giacomo high on a hill above town
ABOVE - All of the churches in this area display black and white pebble mosaics (riseu)
in front of their entrances.

ABOVE and BELOW - The impressively lavish interior and altar of Chiesa di San Giacomo.
The area's aristocrats amassed wealth from trade in the 11th to 15th centuries.
ABOVE LEFT - Gold marble columns with crystal chandeliers along the sides of the
central nave. The side walls are lined with beautiful inlaid marble altars and pillars.
ABOVE MIDDLE and RIGHT - Villa Durazzo with more of the typical white and black
pebble mosaics in front. The villa is surrounded by gardens known for an
extensive collection of palm trees and camellias.
ABOVE - Another look at the beautiful frescoed buildings in Santa Margherita!