Click on any picture below to see a larger version
9/21/2015 - Today was the fourth day of our stay in Santa Margherita
Hike to Santuario di Montallegro in Rapallo
We took the bus to Rapallo (next town along the coast east of Santa Margherita).
Then we found the old stone trail, hiked up to the Santuario di Nostra
Signora di Montallegro, The Sanctuary of Our Lady of Montallegro.
and then to the top of Monte Rosa 660m (approx 2000ft total).
ABOVE LEFT - The Castello in Rapallo is surrounded by the sea and connected to
the dry land by a pier, its unmistakable silhouette is one of the symbols of the
city of Rapallo. It was built in 1550 for defensive purposes after the looting and
destruction of the town by the pirate Dragut, who enslaved many people.
It was long used as a prison but now is open for visitors.
ABOVE and BELOW - The five hundred year old stairmaster
which is the stone trail up to the Santuario di Montallegro.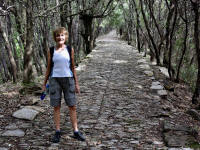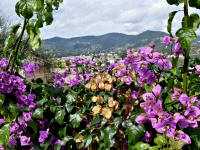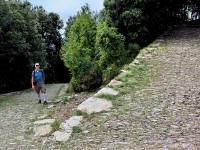 ABOVE - The stone trail was very steep and never-ending UP! We've decided
Italy builds everything steep - roads to hilltowns, hiking paths - all at least 15% gradient
ABOVE - Santuario di Montallegro at the top of the long hike.
The facade in Gothic style was completed in 1892
We spent about an hour and a half exploring the grounds of the Sanctuary
and walking the 14 Stations of the Cross, on the way to the top of Monte Rosa.
ABOVE Right and BELOW Left and MIDDLE - Inside the Santuario, built in 1558,
there is a marble altar plus numerous paintings and sculptures by famous artists.
The dome ceiling above the altar depicts the Apparition of the Most Holy Virgin
as She appeared to a local farmer. The belief is that She requested a church
be built here and She left a small icon as a pledge of her love
towards the people of Rapallo.
BELOW RIGHT - We enjoyed a wonderful dinner at L'insolita Zuppa Ristorante
near our hotel in Santa Margherita. The meal was so good we went back!