Click on any picture below to see a larger version
9/20/2015 - Today was the third day of our stay in Santa Margherita
Boat to San Fruttuoso - Hike back to Santa Margherita
Today we took the boat to San Fruttuoso Abbey. We then hiked up a long steep trail
to the top of Monte delle Bocche (1800 ft in 1 1/2 miles) and
descended back to Santa Margherita.
Another beautiful warm (75-80 degree) sunny day along the Mediterranean!
Another beautiful day at Santa Margherita harbor. Let's take a boat somewhere!
ABOVE - Views of the Santa Margherita and Portofino coast from the boat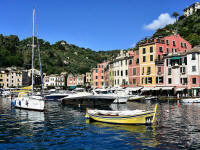 ABOVE - Views of Portofino harbor from the boat to San Fruttuoso - it was about an hour
ride from Santa Margherita with a stop in Portofino to let other passengers disembark.
ABOVE LEFT - Faro (lighthouse) on Punta di Portofino -
where we enjoyed the view and a drink yesterday
ABOVE LEFT and MIDDLE - Approaching Abbazia (Abbey) di San Fruttuoso. You can
only get here by boat or by hiking. Doria Torre (tower) on the right.
Our trail from the Abbey headed up past the tower, then straight up from there.
The Abbey of San Fruttuoso is a Benedictine Monastery of Romanesque and Gothic
architecture dating from the 10th to 13th centuries. In 1983, the Doria family
donated the Abbey to the preservation foundation complete with the family tomb,
the church, the 16th century Doria tower, several fishers homes and 33 hectares
of olive groves and Mediterranean scrub. It was refurbished, then opened to the public.
ABOVE - Beautiful little beach at the Abbey. We left our bathing suits at the hotel -
otherwise, we'd have been in the water!
ABOVE - We decided to hobnob with the locals and tourists at the cafe above the harbor.
ABOVE - The steep trail up was mostly rocky with lots of switchbacks.
We were glad we had our hiking poles!
We were very happy to be in the shade of tall trees the whole climb to the top.
It was quite hot, and we were dripping with SWEAT!
ABOVE - Finally at the top of the climb. Great lunch spot at Pietre Strette. We powered up,
checked out the trail map, and headed down the steep trail to Santa Margherita.
ABOVE - Difficult steep steps most of the descent to Santa Margherita