Click on any picture below to see a larger version
9/19/2015 - Today was the second day of our stay in Santa Margherita
Hike from Santa Margherita to Portofino and return
Today we hiked over the Monte di Portofino in the protected "Natural Park".
Lots of steep trails and steps and breathtaking views of the Bay of Portofino.
The total hike was over 12 miles and about 2000 feet of climbing (fun)
and 2000 feet of descending (painful)!
ABOVE - All of our hikes seem to begin with steps.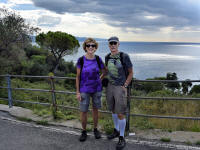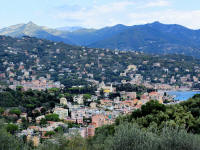 ABOVE - Enjoying the view, looking back down on Santa Margherita as the trail climbed
ABOVE - We stopped for a view of the Mediterranean before climbing more steps!
ABOVE LEFT - Communal laundry fountains were typical in rural villages.
ABOVE MIDDLE - Close-up of olives in the orchards we hiked through.
ABOVE LEFT - We made it to Portofino!
Hillside of blue morning glories
ABOVE - Beautiful Portofino harbor. The picture of us was taken by a photographer
who lives in Saratoga, CA. (about 15 miles from us). We just happened to talk
with him and his wife as we were sitting on a wall enjoying the view. Small world!
ABOVE and BELOW - Photos from the other side of the Portofino harbor
on our climb up to the castle above the town
BELOW - We hiked out to the Punta di Portofino (promontory) and stopped at the cafe
on the point below the lighthouse. The cafe had great gelato and limonata!
BELOW - Time to head back down to the harbor.
BELOW MIDDLE - Chiesa San Georgio where a wedding was about to take place.
BELOW RIGHT - As we were leaving Portofino - view of Chiesa San Martino
BELOW - We walked the coastal trail back to Santa Margherita - great views!
ABOVE RIGHT and BELOW LEFT - On the coastal trail back to Santa Margherita,
we saw a rally of these race cars on the road between Portofino & Santa Margherita
plus several Ferraris!!