Click on any picture below to see a larger version
9/18/2015 - Today was the first day of our stay in Santa Margherita, Liguria
Transition Day - Ready for Part 2 of our Adventure!
We left Monferrato and moved on to Santa Margherita on the Italian Riviera!
We walked around the Santa Margherita Bay for our first Mediterranean pictures.
It was a beautiful sunny & 75 degree day in Liguria!
ABOVE LEFT - At the train sation in Casale, Monferrato - Goodbye, Casale M.
ABOVE MIDDLE and RIGHT - Here we are Liguria, at the harbor in Santa Margherita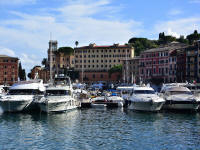 ABOVE - We stopped at a cafe for a sangria with views of the harbor.
ABOVE LEFT - Statue of Vittorio Emmanuelle II - he seems to be everywhere!
ABOVE MIDDLE - Oh look - it's a mermaid!
ABOVE LEFT - Church of San Giacomo high on a hill above town
ABOVE - Santa Margherita with its beautiful, frescoed buildings.
ABOVE LEFT - A bride gets "riced"
ABOVE MIDDLE - Interior of the Basilica di Santa Margherita, where the bride was just married.
Built in 1657 with a nave and two aisles embellished with a wealth of marbles,
paintings and stuccoes
ABOVE - Our restaurant choice for dinner tonight