Click on any picture below to see a larger version
9/17/2015 - Today was the seventh day of our Terruggia Bicycle Tour -
Cycling up to the hilltowns of Conzano, Camagna, Vignale, and Frasinello
Beautiful sunny, warm day. We headed out early for our last day of cycling.
We climbed lots of hills and explored several hilltowns. The most notable were
Conzano, Camagna, Vignale and Frasinello. A wonderful end to two weeks of cycling.
The bikes were picked up at 3pm - darn!
ABOVE - Still a little fog early morning but much more beautiful than yesterday.
Camagna in the distance - another hill, another hilltown!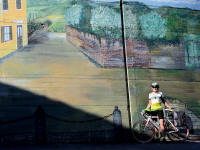 ABOVE LEFT - Close-up of the wall mural on the town wall as we entered Camagna

ABOVE RIGHT and BELOW - Chiesa di Sant Eusebio, the main church in Camagna,
originally built in the 13th century
Unfortunately, none of these small hilltown chiesas are open for visits - Judith tries every door!
ABOVE - Looking back toward Camagna as we descend and then climb up to Vignale
ABOVE LEFT - Still climbing toward Vignale
ABOVE MIDDLE and RIGHT - Chiesa di Sant Bartolomeo in Vignale
ABOVE LEFT - Close-up of statues on roof of Chiesa di Sant Bartolomeo
ABOVE RIGHT - Sadly, our ride is nearly finished - two more hilltowns in the distance