Click on any picture below to see a larger version
9/16/2015 - Today was the sixth day of our Terruggia Bicycle Tour -
Cycling up to the hilltowns of Rosignano and Cella Monte
We could barely see through the fog this morning
but after we headed out for a ride, it gradually cleared.
We climbed to Rosignano then down and up again to Cella Monte.
All of the ups are at least 15%.
ABOVE - Foggy view from our apartment this morning, and on the climb to Rosignano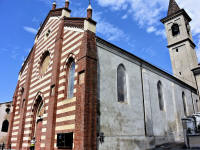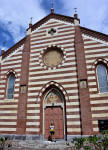 ABOVE - Chiesa d' Sant Vittore in Rosignano built in 1507
ABOVE LEFT- Chiesa di Sant Antonio built in the 12th century
ABOVE RGHT- Climb to Cella Monte with Rosignano in the background

ABOVE - In Cella Monte. Cella Monte was a past winner of "European Competition
for "Towns & Villages in Bloom" - and we saw flowers everywhere throughout the town.
Just beyond the church above, we stopped at a cafe for lunch.