Click on any picture below to see a larger version
9/14/2015 - Today was the fourth day of our Terruggia Bicycle Tour -
Cycling to Santuario di Crea
With foreboding clouds, we headed out to visit the Sacro Monte di Crea.
We cycled up to the sanctuary and then hiked several kilometers
to the top of the sacred mountain. Luckily, we never got a drop of rain.
ABOVE - We passed lots of folks picking grapes.
The driver of this tractor smiled and said "OK to take a photo" (in Italian, of course)

Judith holding the beautiful bunches of grapes the foreman gave us - very sweet and delicious.
They are used to make Barbera wine. BELOW - This is the winery that uses the grapes .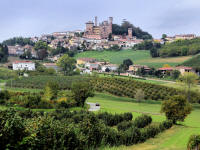 BELOW LEFT - Castello di Cereseto
BELOW RIGHT - Starting the 5km climb from Serralunga up to the Sanctuario di Crea
BELOW LEFT - This Natural Park surrounds the sanctuary
BELOW RIGHT - At Tenuta Tenaglia winery on the way to the sanctuary
BELOW - Of Roman origin, the Sanctuary dedicated to the Assumption
was enlarged in 1483 and has gone through many alterations since.
The interior has numerous frescoes from the early 1500s
A steep hike took us past 23 chapels built in two different construction phases,
one in the 16th and 17th centuries, and the other in the 19th century.
The chapels are centered on different stages of the life of the Virgin.
The Sacred Mount of Crea is situated on one of the biggest hills of the Monferrato area.
It boasts an excellent panoramic view over the surrounding hills and on a clearer day,
the snow-covered Alps.
ABOVE - "The Crucifixion" and "The Wedding Feast at Cana"
BELOW LEFT and MIDDLE - "Resurrection of Jesus" and "Ascension of Jesus"
ABOVE RIGHT - The "Paradise" contains over three hundred statues.
Portrayed is the coronation of Mary by the Trinity, supported by a host of angels.
BELOW - "Assumption of Mary"