Click on any picture below to see a larger version
9/13/2015 - Today was the third day of our Terruggia Bicycle Tour -
Cycling in the local Terruggia hills and a little sightseeing in Casale Monferrato
After the overnights showers subsided, we had an early stroll to
pick up some fresh bread at the small market in Terruggia.
We spent the day cycling hills around Terruggia and rode into Casale Monferrato
to visit some of the sights we missed when there last week.
ABOVE - Chiesa Santa Maria delle Grazie.
Lots of restoration underway to repair fallen plaster from the dome.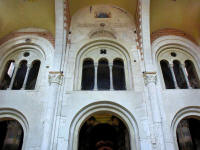 ABOVE and BELOW - La Cattedrale di Sant'Evasio, named for the patron saint of the city.
It was originally consecrated in 1107AD.
ABOVE - Pillars along the nave are made of sandstone and clay bricks. The ceiling is blue mosaics.
The crucifix hanging in front of the main altar is one of the most important works in the cathedral.
The Christ, made of wood and covered in sheets of silver and copper, is on a wooden cross
decorated with stones and crystals. It was taken from the cathedral in Alessandria in 1403.
Most of the ceiling in the dome above the altar was gold mosaics.
ABOVE - Will this be enough Nutella for our breakfast?
Judith had to try the special gelato "della casa" - made from the local grignolino grapes!
Back to the apartment in Terruggia
It's Judith on the balcony saying "Fred, where art thou"?
Time to head to the pool!