Click on any picture below to see a larger version
9/10/2015 - Today was the sixth day of our Cyclomundo Bicycle Tour -
Challenging Piedmont: The Realm of Italian Legends
Casale Monferrato — Alessandria (77.9 km/48.4 miles, 1,220 meters/4,005 ft. of climbing)
Today was a bit cloudy & low 60s in the morning after an overnight shower.
It was sunny most of the afternoon but only about 70 degrees.
We "enjoyed" lots of steep ups/downs between small hilltowns.
Beautiful vineyards along most of the route.
ABOVE - Castello di San Giorgio - the top of our first steep climb out of Casale.
We were on the challenging bike circuit course. We were imaging that Infernot translates to hell!
We later learned that Infernot is actually a wine cave and many are scattered throughout Piemonte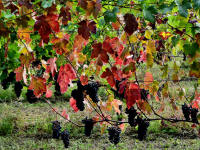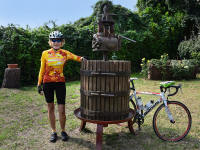 ABOVE - Today's vineyard photo. Love the red-colored leaves

Judith is ready to press some grapes.
We had lots of comments about Lucy Ricardo when we posted this on facebook.
We visited many hilltowns again today. ABOVE - Sala Monferrato, Ottiglio, and Vignale
ABOVE - Glad there was room for bikes to get past this roadblock -
certainly didn't want to turn around and go back up the long descent!!
Also - Beautiful church in Quargnento